F1 Challenge Mod DTM 2002 V1.1 (DEU / ENG) (2002) Download
F1 Challenge Mod DTM 2002 V1.1
El juego  "no es independiente". Nesecitas de BASE el juego F1 Challenge 99-02 EA Original para poder jugarlo.  Recoardar poner modo compatibilidad con  windows 98/me en caso de tener Windows 7.
Pasos de instalacion: Instala F1 challenge 99-02 EA y luego ensima de este el DTM 2002. Ejecutar DTM3Dconfig.EXE para configurar la resolucion y al finalizar abrir DTM2002.exe. Podras hacer estos ultimas indicacion abriendo launcher.exe Listo Podras disfrutar del mod! Saludos
Requisitos del sistema:
SO: Windows 2000/XP
CPU: 1,7 GHz
RAM: 512 MB
Vídeo: 64 MB aceleradora 3D tarjeta de video compatible con DirectX 8.1
Sonido: DirectX 9
DirectX: 9.0c
Disco duro: 1 GB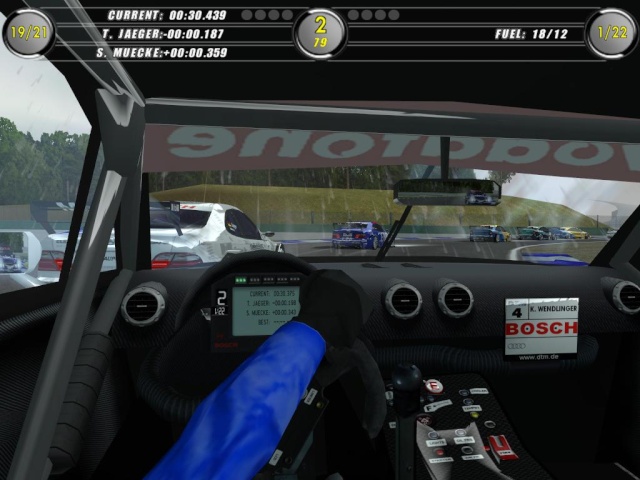 Año: 2002
Género: Deportes / Simuladores
Desarrollador: ElectronicArts
Plataforma: PC
Tipo de Publicación: Repack
Idioma: Deutsch /Inglesh
Licencia: Freeware
Tamaño: 1 gb MB


F1 Challenge Mod DTM 2002 V1.1 (DEU / ENG) (2002) Download


Download: MOD DTM 2002 Part1
Download: MOD DTM 2002 Part2
Download: MOD DTM 2002 Part3


Download: Official DTM 2002 Patch v1.1
DETAILS Fixes:
- New Launcher
- New spark texture
- New better stereo sounds
- Missing sounds (rumble strip ...)
- 16BIT menu fix
- Filter DTM02 that you could easy insert new Seasons
- Vodafone Logo in Cockpit view transparent (for better viewing of the start lights)
- TT Cockpit display changes for better viewing
- TT+Opel reflections in cockpit windows
- New Texture for raindrops
- White RMP LED´s in multiplayer and Championship mode fixed
- New Cockpit advertising boards
- Mirrored tyres in right side fixed (Mercedes CLK 02)
- Better tyre physics (less tyre wear and less heating)
- New AIW for all Tracks
- Fuel usage on all tracks fixed
- New TV Cam Hockenheim Short
- Starting Lights for Hockenheim Short
- Lap counting bug at Hockenheim Short fixed
- Update Advanced Display Menu
- Mappingbug in Opel Cockpit mirror fixed

Download: DTM 2002 Track Pack 1
DETAILS: Four new tracks and some updates of existing ones.

Download: DTM 2002 Track pack #2
DETAILS: Darlington (oval) & Nordschleife & Long Beach tracks adapted for DTM 2002.
"UNZIP AND PASTE IN" F1 Challenge 99-02\DTM02SeasonData\Circuits

Download: DTM 2002 Track pack #3
DETAILS: Indianopolis (oval) & Gateway & Hitchin (short fictional streets) tracks adapted for DTM 2002.
"UNZIP AND PASTE IN" F1 Challenge 99-02\DTM02SeasonData\Circuits
Admin




Mensajes

: 1665


Fecha de inscripción

: 28/07/2010


Localización

: Argentina




Temas similares
---
Permisos de este foro:
Puedes
responder a temas en este foro.